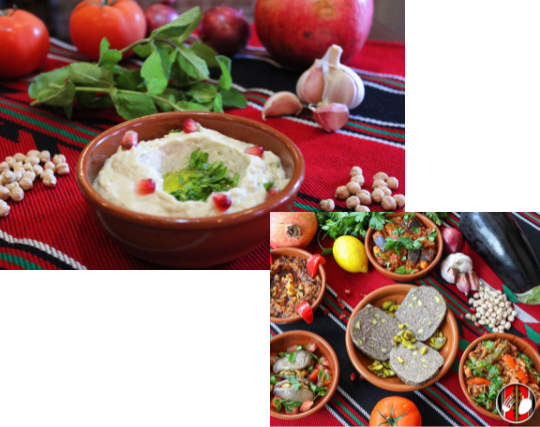 Hanna brought along his mother's Lebanese and Syrian recipes that she herself inherited from her grandmother in Aleppo city, where cooking is a heritage, a tradition, an art and food sharing is a cozy time to enjoy with family and friends.
Welcome to my about page! My name is Hanna, and I am a chef with a passion for crafting delicious and memorable dishes. Originally from Lebanon, I bring a unique blend of Middle Eastern flavors to my cooking that is sure to tantalize your taste buds.
With years of experience in the culinary world, I have honed my skills and techniques to create exceptional dishes that showcase my love for food. My restaurant, located in the heart of Brussels, offers a diverse menu that caters to all tastes, with a particular focus on vegan and vegetarian options.
I take pride in using only the freshest and highest quality ingredients in all of my dishes. Whether you are looking for a hearty meal or a light snack, my menu has something for everyone. From traditional Lebanese dishes like hummus and falafel to modern European-inspired plates, there is no shortage of options to choose from. At my restaurant, we believe that dining should be an experience, not just a meal, and we strive to provide our guests with an unforgettable culinary journey every time they visit. So come and join us at our restaurant in Brussels, and let us take you on a delicious adventure through the flavors of Lebanon and beyond, with a particular emphasis on our vegan and vegetarian options.